Colour Blindness Testing and Checking Service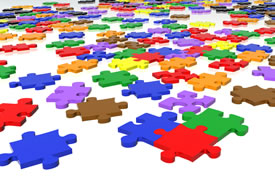 FACT - bad colour combinations can lose you sales!
Some of your customers have a colour vision impairment that affects their ability to discern colour differences in certain areas. See the 'perfect colour sense' graphic, top right of this page :- to one large group of colour-blind people it appears all the same colour.
We are not talking about a small minority but up to one in 12 men has this colour-blindness and that equates to approximately 2.4 million in the UK alone! And remember they are not colour 'blind' but they do see colour differently.
So what can be done?
Welcome to COLOUREYE LTD a company with a totally unique concept in colour management who work on the principal that colour schemes should be seen by all.
It is very difficult for a normally sighted person to understand what colour-blind persons actually see and very difficult for graphic designers to find out how well their designs are seen by them.
See a small selection of actual examples where the message got lost.
We are experts on the effects of colour-blindness and we can let you know if your designs are getting your message across to all who see it and if not, we can tell you how to improve it.
We can help you make perfect colour sense.
Please contact us for more information.